I find great appeal in being able to quickly prepare a healthy meal for my family. Eggs are a staple food in the kitchen, but they can be difficult to cook. Eggs are an inexpensive, nutritious food that can be cooked in a variety of ways. They can be scrambled, hardboiled, fried, or poached to create a variety of dishes that are sure to please you and your family. Eggs also make for a quick breakfast on the go when time is tight.
The best egg cookers are easy to use and make for quick breakfasts or dinners. With so many different styles and types of egg cookers, it's hard to know which one is best for you. So, if you're looking for a new way to cook an old favorite or just want something different, these egg cookers will be perfect for you.
Hamilton Beach 3-in-1 Electric Hard-Boiled Egg Cooker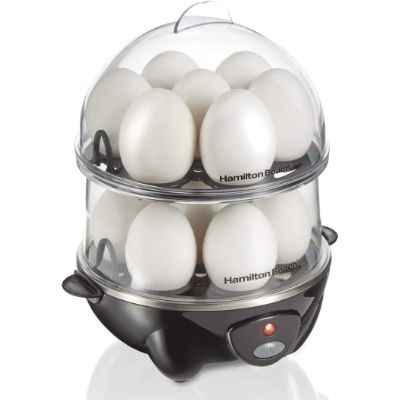 Are you tired of spending hours peeling hard-boiled eggs for your favorite dishes? Save time by cooking eggs in this egg maker! After your eggs have finished cooking, simply shake the egg maker to peel the eggs and no more messy shells. After the eggs are peeled, use this hard-boiled egg cooker to prepare a delicious omelet filled with your favorite meats and vegetables. Three different settings give you the choice to prepare soft, medium or hard-boiled eggs. Choose your favorite taste, and the cooker does the rest.
Cuisinart Brushed Stainless Steel Egg Cooker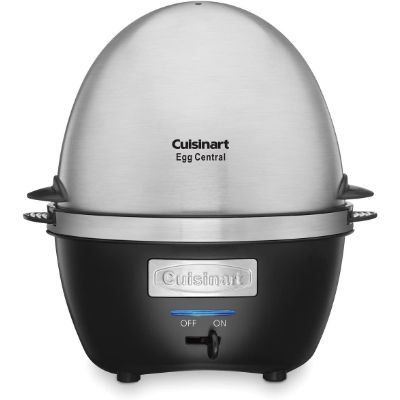 The Cuisinart egg central egg cooker lets you prepare eggs quickly and easily. This handy egg cooker lets you cook up to 10 eggs in their shells. Choose from three categories and three cooking levels: soft, medium or hard-boiled eggs. An indicator light tells you when the eggs are ready, and an auto shut-off function prevents overcooking. The egg cooker includes a 180 ml measuring cup with a piercing pin so you can measure the perfect amount of water to cook your eggs. With an easy-to-use on/off switch, this handy device can be used to cook a variety of different foods, such as poached eggs or omelets.
Chefman Electric Egg Boiler, Egg-Maker & Poacher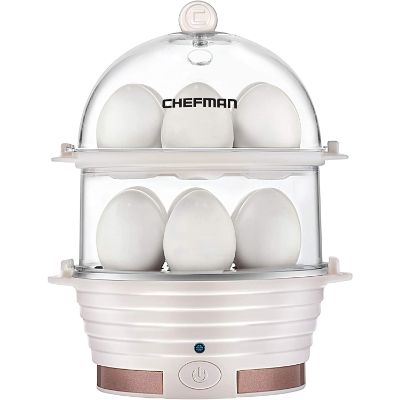 Chefman's electric egg cooker is a fast and easy way to cook eggs for any occasion. Whether you're looking for a quick breakfast or an elaborate brunch, this egg cooker has you covered. Versatile and functional, this egg cooker can be used to make eggs in a variety of ways such as poached, scrambled, hard-boiled, omelets, and more. Easily boil, poach, or steam up to 12 eggs in minutes, faster than the stovetop method. Use the included measuring cup to know how much water you need depending on the style of the egg. The ready buzzer will signal once your eggs are finished cooking.
Elite Gourmet Electric Egg Cooker with Auto Shut-Off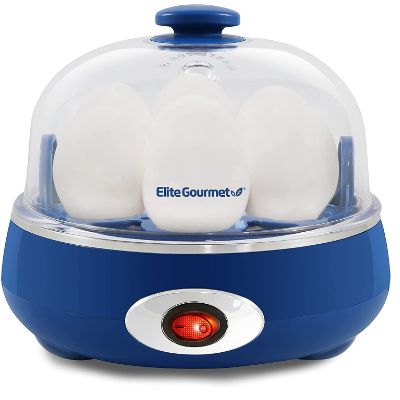 Whether hard-boiled eggs are part of your weekly meal prep routine or are the star of your breakfast show, the Elite Gourmet egg cooker is the perfect way to make the process easy and foolproof. Quickly boil and cook seven eggs at once using the unique measuring cup that has fill lines for soft, medium and hard-boiled eggs and markers for fast, medium and slow. This very easy-to-use egg cooker is packed with features and functionality with the transparent lid and egg tray allowing you to monitor the progress of your eggs. This egg cooker and steamer can also prepare the perfect poached eggs.
Bella Double Egg Cooker, Rapid Boiler and Poacher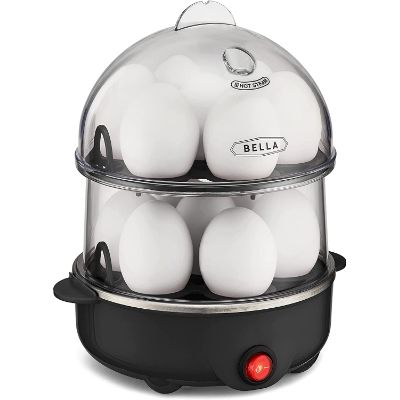 Are you looking for a quick, easy way to cook delicious eggs without the hassle? The Bella double egg cooker allows you to make up to 14 eggs at once with hard, medium or soft-boiled eggs, scrambled eggs, and an omelet. Conveniently make breakfast or brunch for the whole family all at once with this versatile egg tray. This egg cooker also includes removable egg trays, an egg piercing pin, and a built-in piercing pin to prevent the yolk from breaking. Effortlessly boil eggs to feed the whole family in under 10 minutes.
Vobaga Electric Egg Boiler with Auto Shut-Off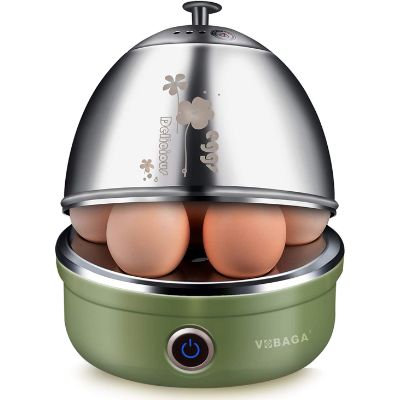 Vobaga electric egg boiler with auto shut-off is a versatile and convenient kitchen appliance that can quickly and easily prepare eggs in the form of both omelettes and poached eggs. Boiling eggs have never been easier, as the device has two layers that allow for up to 14 eggs at once. In addition, the device also has three additional functions to cook vegetables or even meat. With the help of the LED light, the egg cooker also lets you know when the eggs are ready. It has a seven-egg capacity which is useful in homes or offices where large families or groups of friends are present.
DASH Deluxe Multipurpose Egg maker & More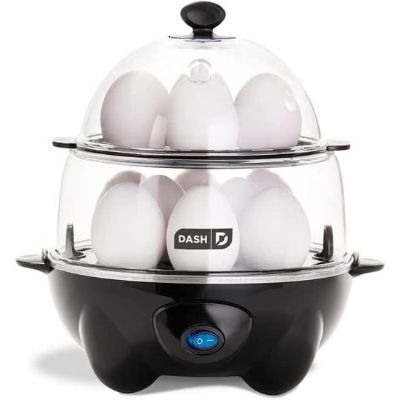 The DASH Deluxe rapid egg cooker will get you to eat healthy in no time! This rapid egg cooker is DASH approved and will make your healthy living journey stress-free and fun. It has a unique design that combines an egg cooker and steamer in one convenient kitchen unit. This small appliance cooks eggs quickly and perfectly, with automatic shutoff to prevent overcooking. The auto-off feature turns off the machine as soon as cooking is complete, so you don't have to worry about monitoring the cooking progress or overcooking eggs. Steam vegetables, dumplings, seafood, and more with the included poaching tray, omelet bowl, egg holder trays, measuring cup, and recipes.
Nostalgia Retro Electric Large Egg Cooker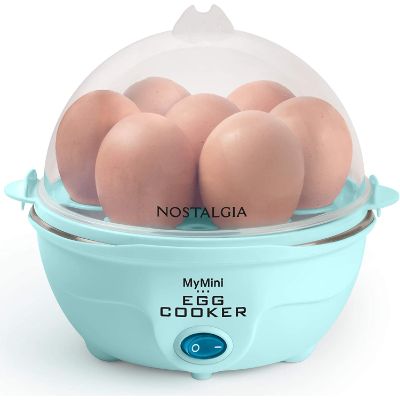 With the Nostalgia retro large egg cooker, you can cook up to 7 eggs at a time, delivering healthy, consistent results the way you like them. This electric egg cooker can make a variety of eggs such as soft, medium or hard-boiled eggs, egg whites, poached eggs, scrambled eggs, omelets, and deviled eggs, and can even be used to steam vegetables and dumplings. This is very easy to clean, as the egg tray and the stainless-steel steam cooking plate are detachable. Simply fill up the measuring cup to your desired water level, choose between soft, medium or hard-boiled, turn it on and within minutes the alarm will let you know that breakfast is served.
DASH Deluxe Egg Bite Maker with Silicone Molds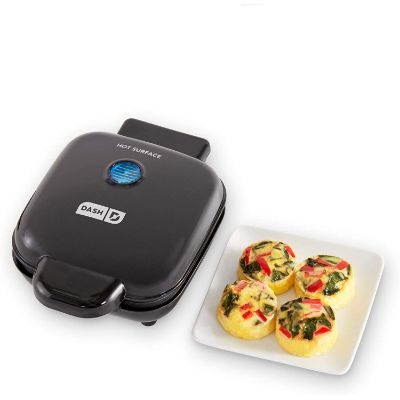 Get perfect, sous vide style egg bites at home, every time, in just minutes, with the egg bite maker from DASH. Weighing 2 lb, the Dash egg bite maker is your must-needed for that first flat, more small kitchen, university dorm life, or trailer/RV travelling. Simply plug in the device and it will alert you when the cooking surface is hot enough. Featuring a sleek design and multiple colour options, this egg bite maker not only delivers perfectly-cooked sous vide style egg bites, but also allows you to make your own desserts, mini cheesecakes, custard, and much more within minutes.
Chef'sChoice Gourmet Egg Cooker with Electronic Timer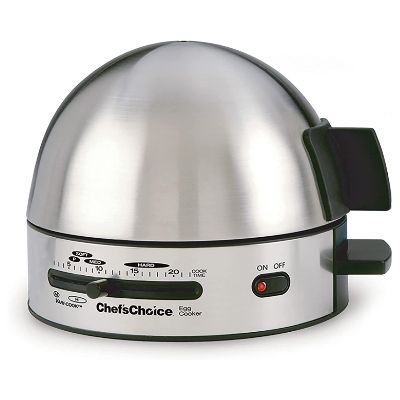 Eggs in the same batch can be combined to cook soft, medium or hard-boiled. The Chef'sChoice egg cooker can be used to cook a variety of egg dishes. With its electronic timer and audible alert, this egg cooker can be used to boil, poach, or make hard-boiled eggs. Its features make it a favourite among people of all ages and backgrounds. With the ability to prepare up to seven eggs at a time, you can cook more than enough for yourself and your family, and spend less time in the kitchen.
DASH 6 Egg Capacity Auto Shut-Off Electric Egg Cooker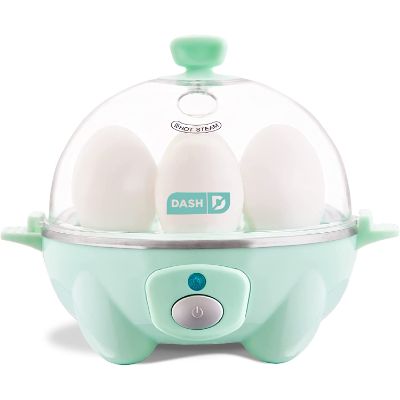 Enjoy your perfectly poached eggs in minutes with this electric egg poacher. The Dash rapid egg cooker is a fast and easy way to make perfectly cooked eggs. Whether cooking soft, medium, or hard-boiled eggs, this egg cooker provides a mess-free cooking experience and saves you precious time in the morning while still achieving perfect results. No need to guess when they're done because this cooker will automatically shut off when finished. The Dash rapid egg cooker is the ideal, compact solution to cook up to 6 eggs perfectly every time.
Larjie Electric Egg Boiler Cooker with Auto Shut-Off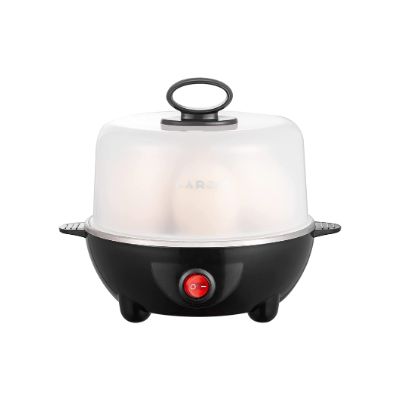 Larjie electric egg boiler cooker is a versatile kitchen appliance that will help you cook boiled eggs quickly and easily. This sleek, compact, stainless steel design will not take up too much counter space and is easy to store. This product comes with a measuring cup and an egg tray that holds 7 eggs. Whether you are looking to cook hard-boiled eggs, soft-boiled eggs, poached eggs, or scrambled eggs, this egg cooker has got you covered. With its advanced technology, this egg cooker will have you cooking in minutes and with ease. Make delicious eggs with the touch of a button.
Bella 7 Capacity Electric Egg maker with Auto Shut Off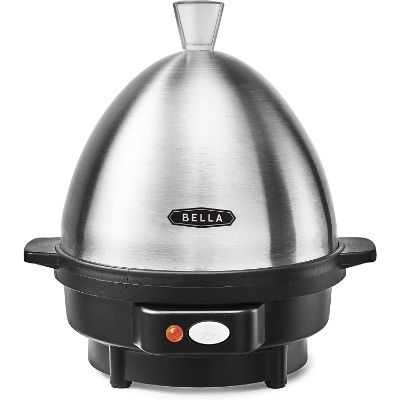 The Bella 7-capacity electric egg maker allows you to prepare breakfast in just a few minutes. This Bella egg cooker cooks eggs in a matter of minutes! Cook 7 eggs in one go or hard boil up to 3 eggs with the built-in egg rack. Cook omelets or poach eggs by simply adding water. The egg cooker poaches up to seven eggs at once and is ideal for making quick and easy meals at home. With an easy-to-use design, this versatile egg cooker allows you to steam vegetables and seafood, cook poached eggs, and more. Complete with a ready-to-eat indicator light and dishwasher-safe removable parts, it is a must-have for any home or food service kitchen.
Evoloop Electric 6 Eggs Capacity Rapid Egg maker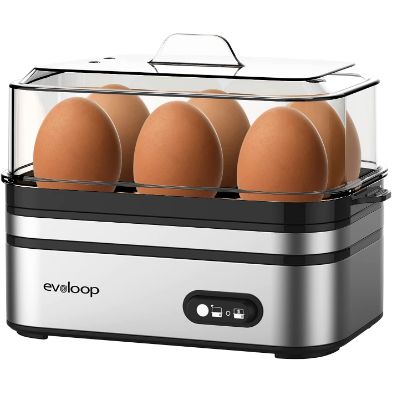 The Evoloop electric egg maker lets you cook up to six eggs in minutes! The cooker has a BPA-Free, non-stick coating for easy cleaning and an automatic power shut-off function to prevent overcooking. It also comes with a cup with a hole puncher and a recipe book. The Evoloop electric egg cooker is ideal for a busy solitary person or large family to make hard-boiled eggs, soft-boiled eggs, poached eggs, deviled eggs, egg sandwiches, scrambled eggs, the perfect dish for any breakfast, dinner party or special event. It can be used in many different ways, and it has features that make it easy to store and clean up after use.
BELLA Rapid Egg Boiler, Poacher Maker and Cooker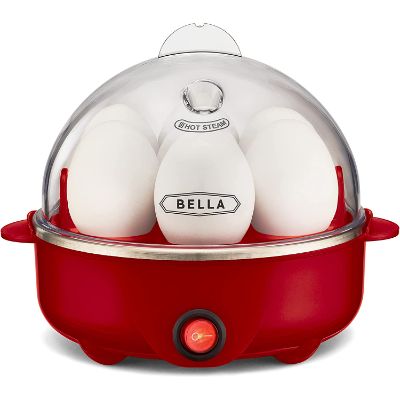 Are you looking for a tool that can make cooking eggs a quick, hassle-free, and fun experience? Bella egg cooker is a fast and simple way to cook eggs to perfection. With one-touch operation and automatic shut-off, this egg cooker makes cooking eggs as easy as boiling water. This convenient egg cooker lets you cook up to 7 eggs at a time, and features a convenient auto shut-off function. From soft-cooked to hard-boiled, from scrambled to poached eggs, this egg cooker does it all. Includes poaching trays and measuring cups with piercing pins to prevent shells from cracking.
In conclusion, if we recall again, eggs are one of the most versatile ingredients in your kitchen. However, cooking eggs can be tedious and difficult if you don't have the right tools or knowledge. So, are you looking for new and exciting ways to prepare eggs for breakfast or dinner? If so, you'll want to check out the 15 best egg cooker ideas that we've found. Check them out and have a delicious meal in a variety of formats within 10 minutes.
Top 5 Best Omelette Pan Reviews 2023 (with Buying Guide) (kitchenrated.com)
Xtrema Ceramic Cookware Reviews: GreenPan Lima Non-Stick 12 Piece Pots And Pans Set (kitchenrated.com)
Best Electric Sandwich Maker Reviews | Expert Opinion (kitchenrated.com)
10 Best Pan For Deep Frying (kitchenrated.com)
Hey There, I'm Monica, Mom of two. This is my personal blog site. Here I write about Kitchen Tips Tricks, Recipes, and Review the products I use.
I hope you enjoy the article. Give me feedback on how I'm doing with my blog. I would appreciate it so much.
Have a great day! 🙂
[Follow me on Twitter]