Baking bread at home is a delightful and rewarding experience. The tantalizing aroma of freshly baked loaves filling your kitchen and the satisfaction of creating your own crusty masterpieces can't be beaten. But here's the secret to making your bread truly exceptional: the right oven. In this guide to the Best Home Oven for Baking Bread, we embark on a journey through the world of home ovens.
Table of Contents
Exploring the key factors to consider when choosing the perfect one for your bread-baking endeavors. Whether you're an aspiring artisan baker or a seasoned pro, the oven you use plays a pivotal role in achieving that golden, crispy crust, and tender crumb you crave.
Join us as we delve into the details of various home ovens, helping you make an informed decision and elevate your bread-making game to new heights.
Oster Convection 8-in-1 Countertop Baking Oven
This stainless steel oven offers one-handed convenience with a single-door pull that opens both doors. Digital controls make cooking precise, eliminating guesswork. It features Turbo convection baking technology for faster and even cooking. Two racks provide cooking flexibility, and there's a slow cooking option at 150°F for up to 6 hours. The extra-large interior can fit two 16-inch pizzas, and there's a preheat setting for precise cooking.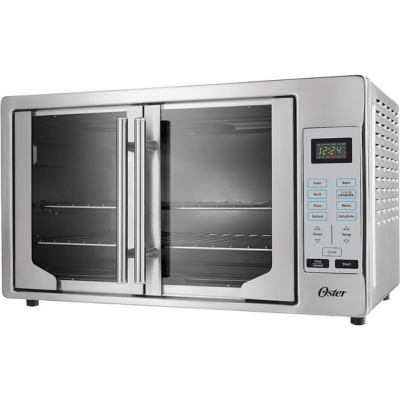 Standout Features
Single-door pull for easy access
Digital controls for precise cooking
Turbo convection technology for even baking
Two racks for cooking flexibility
The extra-large interior fits two 16-inch pizzas
Preheat setting and 90-minute timer for convenience.
Emeril Lagasse Large Baking & Toaster Oven
This Emeril versatile air fryer and multi-cooker can handle a wide range of cooking tasks, from baking bread to roasting for large gatherings. It offers 24 cooking presets, including options for ribs, baking, toasting, and more. The dual-speed fan ensures even cooking with 360º superheated air circulation. Its stainless steel exterior adds an elegant touch to any kitchen, and the French doors open with ease, allowing you to monitor your food.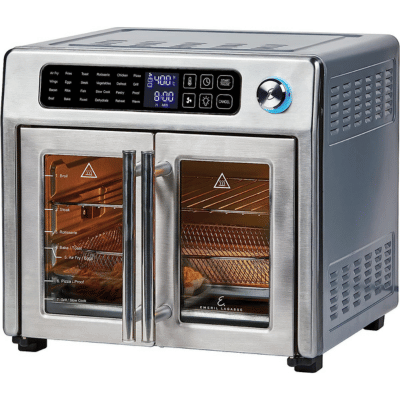 Standout Features
Versatile air fryer and multi-cooker
24 cooking presets for various dishes
Dual-speed fan for even cooking
Elegant stainless steel exterior
Extra-large 26-quart capacity.
DASH Mini Oven Cooker for Bread and Pizza
This compact toaster oven from DASH offers more than just toasting capabilities. It can handle various foods like bagels, breads, pizza, paninis, and even cookies, making it perfect for small portions or quick meals. Its timer control ensures consistently toasted results, and it's energy-efficient due to its mini size. Cleaning is a breeze with removable, dishwasher-safe parts like the backing tray, oven rack, and crumb tray.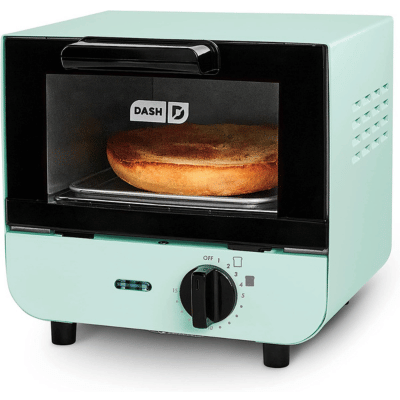 Standout Features
Versatile toaster oven for various foods
Dial-controlled timer for precise toasting
Easy to clean with removable, dishwasher-safe parts
Includes a 1-year manufacturer's warranty and essential accessories.
Elite Gourmet French Door Convection Oven
This Elite Gourmet large capacity oven is spacious enough to fit 9 slices of toast on 2 racks or roast up to a 20lb turkey. Its French dual-door design allows for space-saving and flexibility. The convection feature ensures even cooking, resulting in flakier crusts and tender meats in less time. You can independently control top and bottom heating elements with temperature knobs up to 450°F. The oven includes a 60-minute timer with an automatic shut-off function for convenience.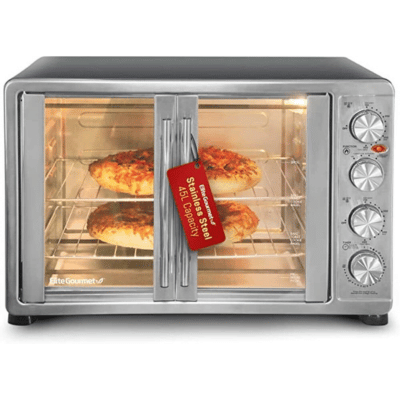 Standout Features
Large 45L capacity for versatile cooking
French dual door design for space-saving
Convection feature for even cooking
Independent temperature control up to 450°F
Stylish stainless steel construction with safety features
Nuwave 12-in-1 Countertop Convection Smart Oven
The Bravo toaster oven offers versatile cooking control with intuitive digital controls. It allows on-the-fly adjustments without restarting the cooking process. An integrated digital temperature probe ensures precise cooking results by monitoring the food's internal temperature.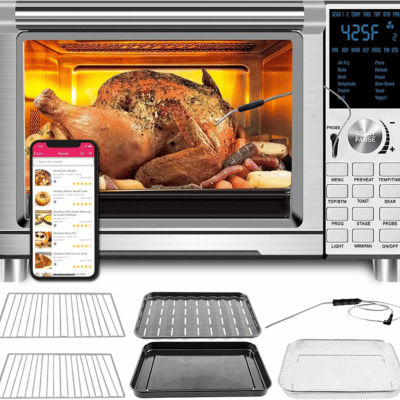 Standout Features
On-the-fly adjustments for temperature and time
Integrated temperature probe for perfect doneness
112 presets for various cooking functions
Linear Thermal (Linear T) Technology for precise temperature control
High-quality construction with heat-resistant glass and quality accessories
In the world of bread baking, selecting the right oven is akin to choosing the perfect tool for an artisan. We've navigated the realm of home ovens in our quest to help you discover the best one for your bread-making journey. From understanding the importance of even heating to exploring the benefits of steam injection and convection features, we've unraveled the secrets of successful bread baking at home.
With your new oven, you're ready to embark on countless bread-baking adventures, creating loaves with the perfect crust and crumb. Enjoy the satisfaction of nurturing your dough into a masterpiece, and may your home be forever filled with the wonderful aroma of freshly baked bread.
Hey There, I'm Monica, Mom of two. This is my personal blog site. Here I write about Kitchen Tips Tricks, Recipes, and Review the products I use.
I hope you enjoy the article. Give me feedback on how I'm doing with my blog. I would appreciate it so much.
Have a great day! 🙂
[Follow me on Twitter]