I know I am a little late to the game with this one. Thanksgiving is, after all, tomorrow but just in case you procrastinated and don't know exactly what you are making here are some tips and twists to the basics "Herb Roasted Turkey and Other Thanksgiving Recipes".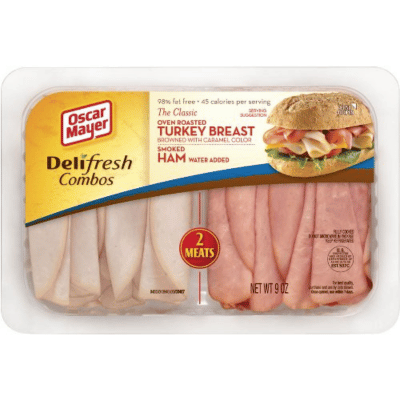 I made a Thanksgiving dinner last weekend because my husband has to work tomorrow. When I tell people I am making a Thanksgiving dinner, I am surprised when they exclaim "How could you possibly do that all by yourself!?". With the proper planning and some delegation, it is not all that complicated. Focus on what is important about the meal to you. For me, that is the turkey, stuffing, potatoes and gravy. Delegate the rest to others or buy it store-bought and move it to a fancier serving dish. I had my guests bring a side (green bean casserole) and pie for dessert. I bought the cranberry relish and moved it to a nice serving dish.
Herb Roasted Turkey with Pan Gravy:
I bought my turkey pre-brined and never frozen at $2.00/lb. If you buy a frozen bird save time to defrost and to brine for best results. If it was me I would dry brine.
Serves 8+ people
Ingredients:
2 TBSP sage, minced
2 TBSP rosemary, minced
2 TBSP parsley, minced
I orange, zested
1/2 cup (1 stick) butter
1 tsp salt
2 1/8 cup apple cider, divided
Gravy:
pan drippings
1/4 cup (1/2 stick) butter
1/4 cup flour
~2 cups turkey stock
Method:
Preheat oven to 350 degrees. Position the rack on the lowest level and remove oven racks if necessary to fit your turkey.
Place the turkey breast up, with legs tied together in a roasting pan.
Mix butter with chopped herbs and orange zest. Divide in half.
Work your hand under the skin of the breast. Take one-half of the butter mixture and cram it all up under the skin across both breasts. This can seem strange the first time you try it but really helps prevent dry flavorless breast meat.
Place two cups of turkey broth and two cups of apple cider in the bottom of the roasting pan. Halve the zested orange and add it with any leftover herb sprigs to the cavity of the bird.
Melt the second half of the butter mixture in the microwave for 30 seconds. Add 1/8 cup apple cider to the butter mixture. This will serve as your basting liquid.
Place turkey in the oven. Every 30 minutes remove the turkey and using a brush, brush the butter cider mixture over the skin.
Bake 3-3 1/2 hours or until breast measures 160 degrees. If the skin crisps up before the turkey is done, cover with tin foil for the remaining cooking time.
Gravy:
Once the turkey is finished remove it from the oven and transfer to the serving platter. Tent with foil. Turkey will stay warm for 30-60 minutes while the remaining items are cooked (gravy, stuffing, casseroles, etc).
Pour pan drippings through a strainer into a liquid measuring cup. Skim the fat layer off the top and discard. Add additional turkey broth to measure 4 cups total.
Melt 1/4 cup butter over medium heat. Add 1/4 cup of flour to create a roux. Stir until the roux begins to darken and change color.
Slowly whisk in the stock and pan drippings. Bring gravy to a simmer for about 20 minutes or until thick enough to coat a spoon. Serve with turkey.
Cornbread Stuffing
I have made this stuffing twice now and I don't go back to a recipe unless it is REALLY good. The cornbread adds sweetness and great texture to the stuffing. The pioneer woman knows what she is doing. I used a boxed cornbread mix and a stuffing starter for the herbs, celery, and onion. My cornbread didn't cube, it crumbled which worked out just fine. I also made 1/2 of the stuffing in a muffin pan. Overall this was a success. It made serving easy and I discovered that stuffing muffin is a very fun word to say.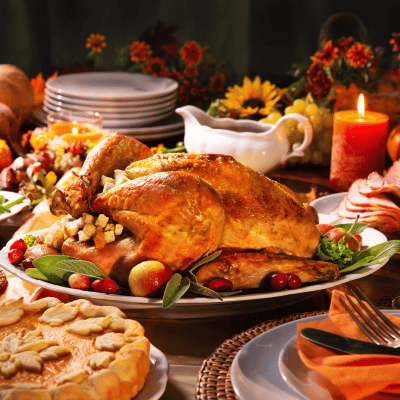 Mashed Potatoes
I made these mashed potatoes. I added 5 cloves of garlic to the potatoes as they cooked and moved my potatoes to a stand mixer to blend.
Lastly, I also made roasted Brussels sprouts and acorn squash with a bacon vinaigrette. It was amazing and will be featured in a post sometime soon!
Hey There, I'm Monica, Mom of two. This is my personal blog site. Here I write about Kitchen Tips Tricks, Recipes, and Review the products I use.
I hope you enjoy the article. Give me feedback on how I'm doing with my blog. I would appreciate it so much.
Have a great day! 🙂
[Follow me on Twitter]